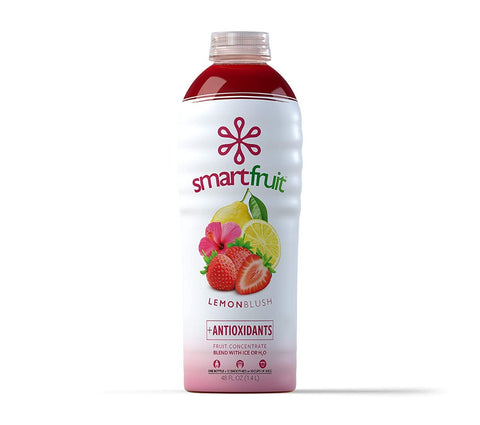 Smartfruit - Lemon Blush - 48oz
Description:
All-Natural SmartFruit mixes deliver 100% fruit, with no added sugar. Every 16 oz. smoothie contains 3 servings of fruit, with no GMO's, artificial colors, flavors, or additives. Each flavor is enhanced with a unique superfood powerhouse like omega-3, antioxidants, electrolytes, detoxifiers and other goodies. 
There is a reason it's said that opposites attract. Nothing brings out the best in us quite as much as our contrasting opposite. And the same is true of fruit! When crafting our newest flavor, Smartfruit™ Lemon Blush we wanted something that that would titillate the entire pallet. The tangy zest of 12 lemons balanced by the sweet subtle flavor of 35 sun-washed strawberries is present in every bottle. Lastly we added a touch of spring to every bottle with a whole cup of fragrant floral hibiscus tea leaves, loaded with the powerful antioxidants properties of polyphenols.