Smartfruit - Refresher - Replenish - 48 oz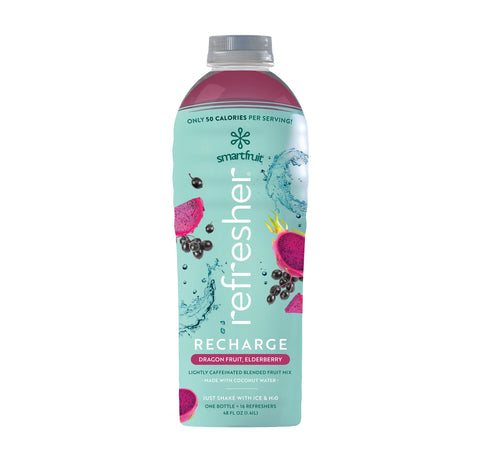 Smartfruit - Refresher - Replenish - 48 oz
Tags: coconut waterdragon fruitelderberrygreen coffee extractRefresher/Recharge
Description:
Smartfruit Refresher is a lightly caffeinated blended fruit mix. Recharge your palate with unimaginative flavor combinations. We've combined both dragon fruit and elderberry into a truly unique beverage that is both rich and floral.
Made with Real Fruit | No Added Sugars | 50 Calories – Per Serving | Certified Non-GMO | Vegan | Kosher |No Preservatives | No Artificial Colors, Flavors or Sweeteners | Fat-Free | Made in USA
Restorative hydration from Coconut Water rich in Electrolytes, Essential Vitamins & Minerals.
Plant-powered energy and focus from green coffee extract (34mg caffeine per serving)
Simply combine Smartfruit Refresher, Ice, and Water in a shaker. Give it a little "shake-shake" and pour it into a serving cup.