Smartfruit - Refresher - Recharge - 48 oz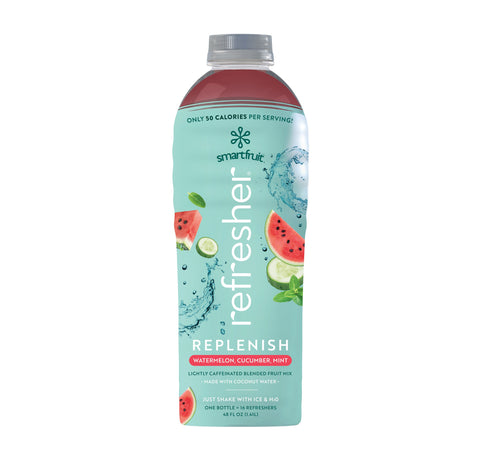 Smartfruit - Refresher - Recharge - 48 oz
Tags: cucumbergreen coffee extractMintRefresher/Replenishwatermelon
Description:
Smartfruit Refresher is a lightly caffeinated blended fruit mix. We've added the sweet and juicy flavor of watermelon and combined it with the complimentary flavors of fresh cucumber and cool mint to Replenish you with that sense of summer.
Made with Real Fruit | No Added Sugars | 50 Calories – Per Serving | Certified Non-GMO | Vegan | Kosher |No Preservatives | No Artificial Colors, Flavors or Sweeteners | Fat-Free | Made in USA
Restorative hydration from Coconut Water rich in Electrolytes, Essential Vitamins & Minerals.
Plant-powered energy and focus from green coffee extract (34mg caffeine per serving)
Simply combine Smartfruit Refresher, Ice, and Water in a shaker. Give it a little "shake-shake" and pour it into a serving cup.